November 17-19, 2017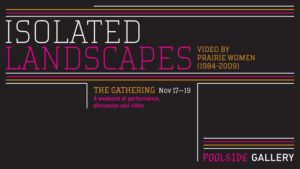 Video Pool's "Isolated Landscapes: The Gathering" begins tonight here in the 'Peg. There are screenings, performances, and talks. So many interesting artists will be in attendance. ALL FREE (except Big Wig by Lorri Millan and Shawna Dempsey).
I am thrilled to be part of this gathering. I am giving a talk (poetry!) on Saturday, November 18 at 4:30pm. Events take place at Finch Gallery Workspace (74 Princess Street) unless otherwise stated. Come see me!
My talk, "The Poetics of Feminist Reclamation Practices" asks:
What kinds of embodied intimacies are possible given histories of violence and colonization?
How do we work with and through histories that we have inherited?
How do media artists engage in acts of solidarity and decolonization?
As artists who are using video, how can we stage reflective encounters with our audiences?
These questions probe projection, site-specificity and identity to explore the regenerative possibilities of video.