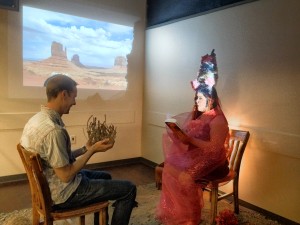 The performance and installation, Lifting Stone, creates space for an intimate encounter with an erotic, poetic text that reflects on vulnerability, our relationship to the land, and being 'stone.' As Leslie Feinberg writes in Stone Butch Blues, "Historically, the term "stone butch" has been used for a butch lesbian who would make love to her femme partner but would not allow herself to be "touched" ….there are of course many ways of being touched beyond direct genital manipulation, and in general the untouchability of the stone butch refers to a lack of unmediated genital contact." In this piece, I work with the queer femme notion of 'stone,' pulling the idea into the poetic sphere to play with metaphors of touching and being touched. The text itself is a queer re/mix of parts of Gertrude Stein's classic text, Lifting Belly.
A video entitled, "Everything" accompanies this work. "Everything" is a text-based video, set in Monument Valley. In the video, violent acts are named. The words gallop across the screen and the only sound you hear is of horses hooves.
In my work I place myself into the terrain of the WEST to explore the imaginary, geographical and cultural landscapes associated with it. Here I understand the WEST as a space created by the collision of North American colonial history and Hollywood Western narratives. The classic Hollywood Western produced a powerful colonial myth that has layered itself upon the land, our bodies, and our collective imaginary. Violence and the idea of manifest destiny is at the core of these narratives.
Lifting Stone premiered at Manifest! Choreographing Social Movements in the Americas, the Hemispheric Institute of Performance and Politics 9th Encuentro held at Concordia University in Montréal, Canada (June, 2014). Later iterations were performed at the Feminist Art Conference, Toronto (September, 2015), and at Dunlop Art Gallery, Regina (April, 2017).
Excerpt from Lifting Stone:
Kiss my stone.
She did.
Kiss my stone again she did.
Kiss my stone over and over and over again she did. I have cherrystones.
Gentle clingstones.
Do you think about peachstones. We find them very beautiful.