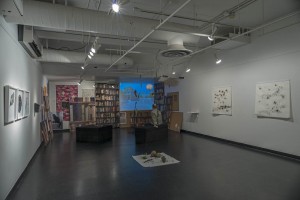 MY MONUMENT was held at Gallery 1C03 from March 6 – April 5, 2014. This exhibit featured artistic exchanges among artists Cam Bush, Steven Leyden Cochrane, Roewan Crowe, and Paul Robles using Roewan's book Quivering Land as a point of connection and collaboration.
In this an artistic collaboration between Roewan Crowe and Paul Robles. While completing her manuscript Quivering Land, Roewan approached Paul to create images in response to her book (published by ARP Books in November 2013). Quivering Land is a queerish Western that engages with poetics and politics to reckon with the legacies of violence and colonization in the West. Both Crowe and Robles share a desire to understand the West, Hollywood Westerns, and different forms of masculinities. They have both explored these themes in previous work. Their collaboration, focused on the text and images in Quivering Land, revealed that they also shared experiences of loss and being lost, fathers, and familiars. Through their conversations they came to understand that they both saw their art as creating spaces for reflection and memory.  In MY MONUMENT they worked to deepen these connections by engaging in material explorations of their shared experiences and feelings.  They individually exhibit images and text pieces, as well as a collaborative sculptural desert piece.
Quivering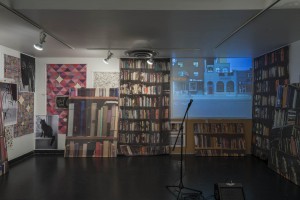 Land brought further artistic connections. Roewan expressed her interest in shifting landscapes and her unusual desire to launch her book at bookstores that no longer exist with artists Cam Bush and Steven Leyden Cochrane. This led to their collaborative endeavor to map vanished feminist/queer/ alternative cultural sites – and for this particular exhibit, bookstores. Using the book as an object of recollection and reconsideration, they follow queer traces to reimagine and create new sites for queer cultural exchanges. The artists rummage through cultural memory and archives gathering images and stories to evoke a felt sense of these abandoned cultural spaces. In this community-based project, the artists solicit stories, images and experiences about bookstores that used to exist. Through the use of digital platforms such as google map, mobile technologies, and message boards they build an interactive, intergenerational, collaborative space for participation by the wider community. In addition to the virtual spaces that will be created through a website, GHOST LAUNCH emerges as a temporary installation, a queer space, physically appearing at the University of Winnipeg with Gallery 1C03 and in various spaces in Winnipeg, and throughout the Americas where alternative bookstores used to exist. Readings by Roewan Crowe and Chandra Mayor were staged at the site where Bold Print used to be located in Winnipeg, Manitoba. Ghost Launch is part nostalgia, part happening, part oral history, part visionary practice.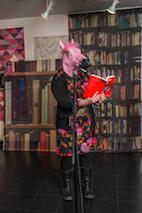 Visit the GHOST LAUNCH website.
Read "Ghost Launch: Artists Collaborate to Invoke Sites of Queer/Feminist Literature" by Lukas Thiessen