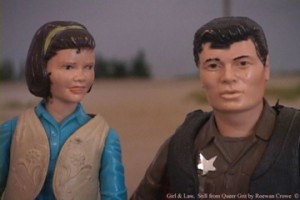 Queer Grit is a stop motion animation that asks the question, how can you be queer on the prairies when your dad is John Wayne?
Watch an excerpt from Video Pool Media Arts Centre.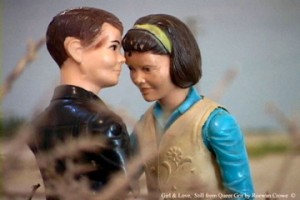 It has screened nationally and internationally at: reelout 9 queer film + video festival, Kingston, ON, 2008; STEM Cell Film Festival: Subterranian Media Arts Festival, Edmonton, 2007; The Fairy Tales International Gay & Lesbian Film Festival, Calgary, 2007; Reel Affirmations 16, Washington, D.C., 2006; 'In the Peg' at the Harbourfront Festival, Toronto, 2006; Herland, Calgary, 2006; Reel Pride, Winnipeg, 2005; Three Dollar Bill Cinema, Seattle, 2005; Outfest, Los Angeles, 2005; Inside Out, Toronto, 2005; Pink Screens: Alternative Gender Film Festival, Brussels, 2005; New York Independent Film Festival, New York, 2005.