THE GUN PROJECT (in progress) is an artistic and theoretical exploration into the loaded object that is "the gun." Through the use of sound, projection, movement, light and touch Crowe creates an opportunity for viewers to encounter "the gun" in an artistic space. Crowe is investigating the gun as performance, by interviewing and documenting the work of artists and theorists who have taken up the gun in their work. More broadly this project considers the kinds and qualities of intellectual, affective, ethical, and discursive spaces art can create.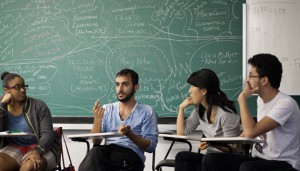 The project was launched as "The Gun as Performance" work group at the 8th Encuentro of the Hemispheric Institute, January 12-19, 2013 in São Paulo, Brazil. Cities | Bodies | Action: The Politics of Passion in the Americas.
The Hemispheric Institute of Performance and Politics, the SESC Vila Mariana, Universidade de São Paulo and the SP Escola de Teatro gathered artists, performers, scholars and activists to submit performances, academic presentations, music, videos, installations, exhibits, activist projects, virtual actions and other proposals that examined the link between performance and politics in the 8th Encuentro.
Watch a clip about the project on YouTube
More information coming soon!