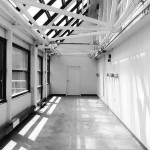 THE STUDIO at the University of Winnipeg! A studio in a greenhouse on the fifth floor of the library.
Scientists, anthropologists, psychologists, geographers, all have labs on campus, theatre and film has space too, and now this feminist artist has a studio. This will also be a creation/teaching space that will allow me to work more seriously with students on artistic projects in the classes I teach in the Women's and Gender Studies department. Art happens here.
More pics and updates coming soon.